September 2021 News
WE ARE LAUNCHING OUR END OF SUMMER SALE
Eat Sum More is pleased to announce the launching of our End Of Summer Sale starting this weekend. The sale begins on Saturday, September 18th – and all items in our Online Store will be 10% off!
Please use the coupon code SUMMER10 on the checkout page, and save on all of your favorite and delicious South African groceries, treats & delicacies.
REMINDER: IN-STORE POLICIES AND RULES
We are still open to the general public and we welcome you to come visit us at our store in Thornhill, Ontario. If you are going to be shopping with us in-person, here is an infographic reminder of our store policies and regulations: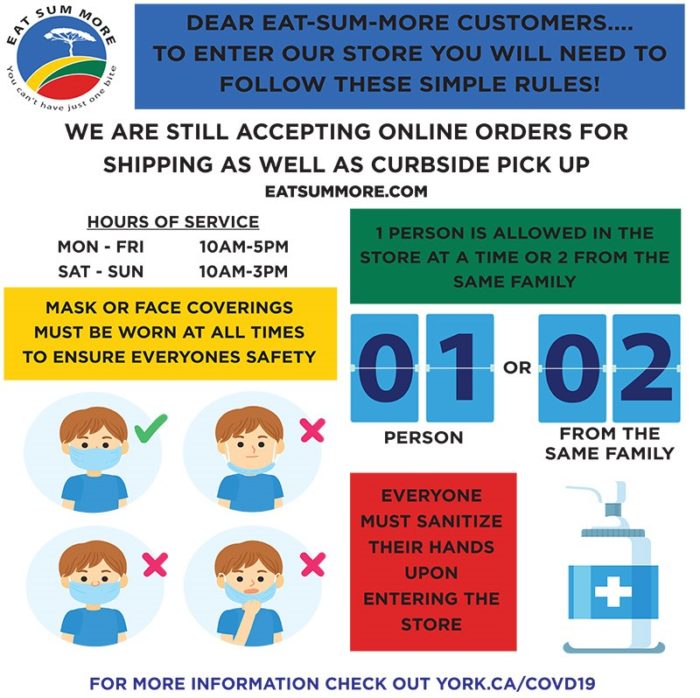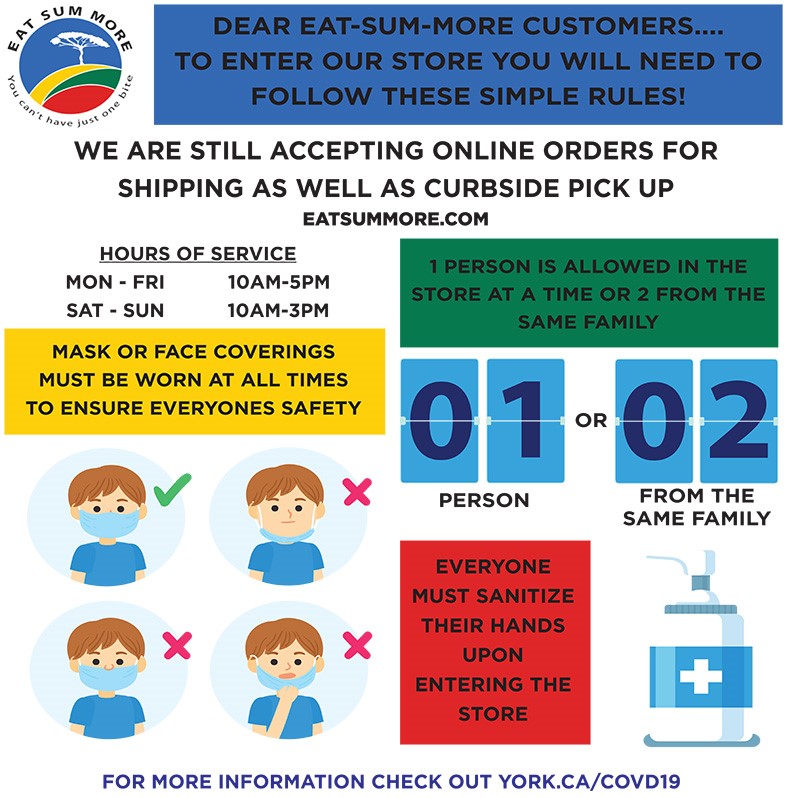 TODAY IS THE HIGH HOLIDAY OF YOM KIPPUR
From all of us here at Eat Sum More, we would like to wish everyone who is observing Yom Kippur today – have an easy fast and g'mar chatima tovah!
SEPTEMBER 22ND
IS THE FIRST DAY OF THE AUTUMN EQUINOX
The fall season is almost here and with it brings us those autumn chilly nights. It also brings us warm sweaters, crisp leaves, ripe apples and everything pumpkin spice!
We have the perfect assortment of teas to warm you up on the upcoming cool evenings – Freshpak Rooibos Tea, Joko Tea and Five Roses Tea. If you are a Rooibos drinker, we have a beautiful Freshpak container, designed by Esther Mahlangu, which is great to store your Rooibos or to give as a gift to someone.
So go ahead and slip on some fuzzy socks, light your favorite candles, and fire up the kettle – it is time to wind down after a long day. Grab yourself a soothing cup of one of our delicious South African teas and indulge in some well-deserved self-love.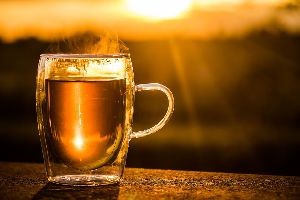 RECIPE OF THE MONTH
SOUTH AFRICAN YELLOW RICE
This is a time-honoured South African recipe, which comes from the great culinary tradition of the Cape Malays way back in the 17th century. It's easy to make, and is deliciously paired with meats like venison, corned beef, traditional Bobotie or really, any preferred meat and gravy.
INGREDIENTS:
1000 g water
1 tsp sea salt
300 g long grain white rice
40 g raisins
1 cinnamon quill
1 tbsp unsalted butter
1 tbsp brown sugar
DIRECTIONS:
In a saucepan, combine the rice, salt, curry powder, sugar, cinnamon, raisins, butter and water. Bring to a boil uncovered. When it comes to a boil, reduce the heat to low, cover and let it simmer for 20 to 30 minutes, or until rice is fluffy and water has been absorbed. Remove from the heat and fluff with a fork. Keep warm until serving time.
SEPTEMBER IS NATIONAL BREAKFAST MONTH
Let's celebrate National Breakfast Month! Have you ever wondered why breakfast is considered the most important meal of the day? Eating breakfast gives our minds and bodies the fuel it needs as well as a jump-start to begin each day.
At Eat Sum More, we have a variety of cereals, porridges, peanut butters, jams and preserves to help you start your day off the right way – with a nutritious and delicious South African breakfast.
We are currently offering contactless, curbside pick-up or home/office delivery.You can order online through our Website –
https://eatsummore.com
– and start enjoying our mouth-watering selection of South African products!